On Sunday, Pastor Brian Keepers preached from John 1:1-5, exploring with us its significance for our lives here and now.
Worship: You can view the sermon and Sunday morning worship HERE.
Bulletin: View the bulletin HERE.
This Week at Trinity
Wednesday Night Meal: Join us on December 4 from 5:30 to 6:30pm for our next Wednesday Night Meal. We're serving ham, cheesy potatoes, green beans, rolls, and a dessert. There is a suggested donation of $2 per person.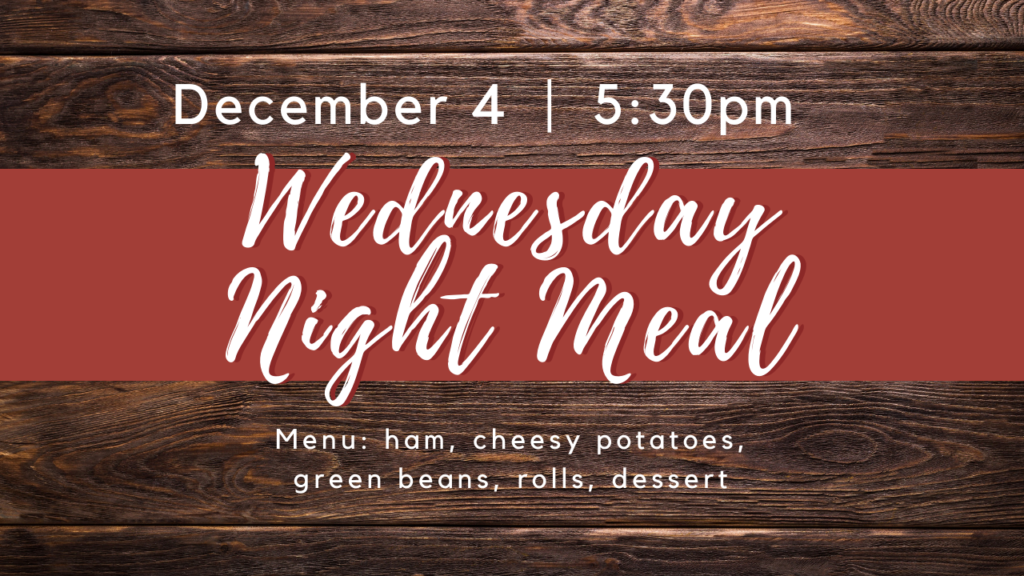 Cookies for College Students: We are in need of 26 people to bake 3 dozen cookies for our college student goodie bags. Sign up online. Please package them in sets of 3 and drop off in Adult Room 1 by Wednesday, Dec. 4 at 7pm.
Wheelchair Ministry Volunteers: Are you able and willing to give 1-2 hours on Saturday, December 7 to help clear space for a new wheelchair ministry that Trinity is coordinating in partnership with Hope Haven? We will meet at 9am in the old NAPA Auto building (308 8th St. SW) across from Taco Johns. Please email Pastor Bob at bobbyd.db@gmail.com (or call the church office at 712-737-4542) if you are able to help.
Uganda Summer Trip Meeting: There will be an informational meeting about our summer trip to Uganda on Sunday, December 8 at 9:30 & 10:50 in Adult Rooms 3&4. These meetings are open to anyone who would like to hear more about the trip. (Attending the meeting is not a commitment to going.)
Contemplative Advent Worship: We hope you will join us for contemplative worship with communion throughout the season of Advent. Every Sunday at 4pm we'll gather in the sanctuary to engage in a more intimate, reflective time of worship. We'll engage the mystery of the incarnation, God with us, through liturgy, prayer, singing, scripture, and the Lord's supper. We invite you to join us whenever you are available.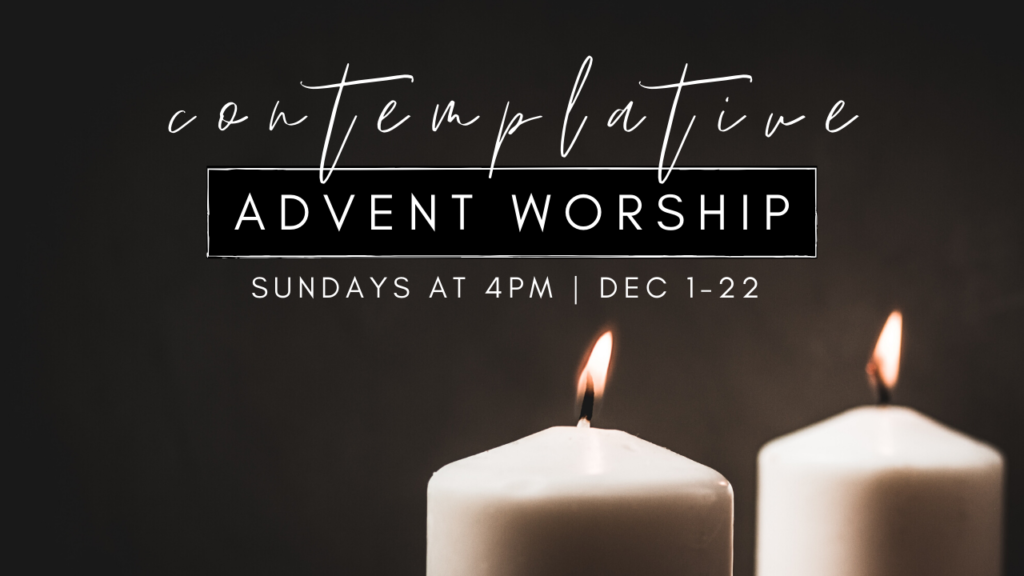 Announcements
Women's Ministry Christmas Event: Women (ages 10 and up) are invited to join us for our Christmas event, Stories of Elizabeth: The Blessing of Intergenerational Wisdom. We'll gather together in the church fellowship hall on Saturday, December 14 from 9-11am. Brunch will be served, followed by a devotional, and then we'll listen to stories from some of our own "Elizabeths." The morning will end with optional cookie decorating, led by Kari Broadway. There is no cost to attend the brunch. Cookie decorating costs $6 for a half dozen or $12 for a dozen plain sugar cookies. (Frosting and sprinkles included with both options.) Sign up online or at the Welcome Center by Dec. 9. If you have questions, please email Carrie Anderson at parisummer@hotmail.com.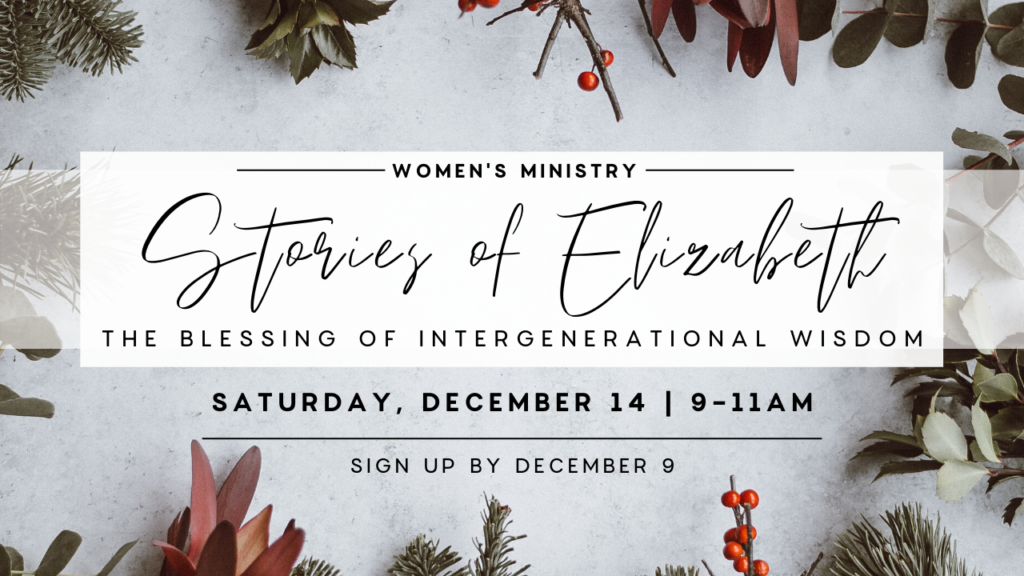 Holiday Service Times: We will go to two Sunday morning worship services (9:30 / 10:50) on December 15, 22, and 29. We will resume our normal three worship service schedule (8:10 / 9:30 / 10:50) on January 5.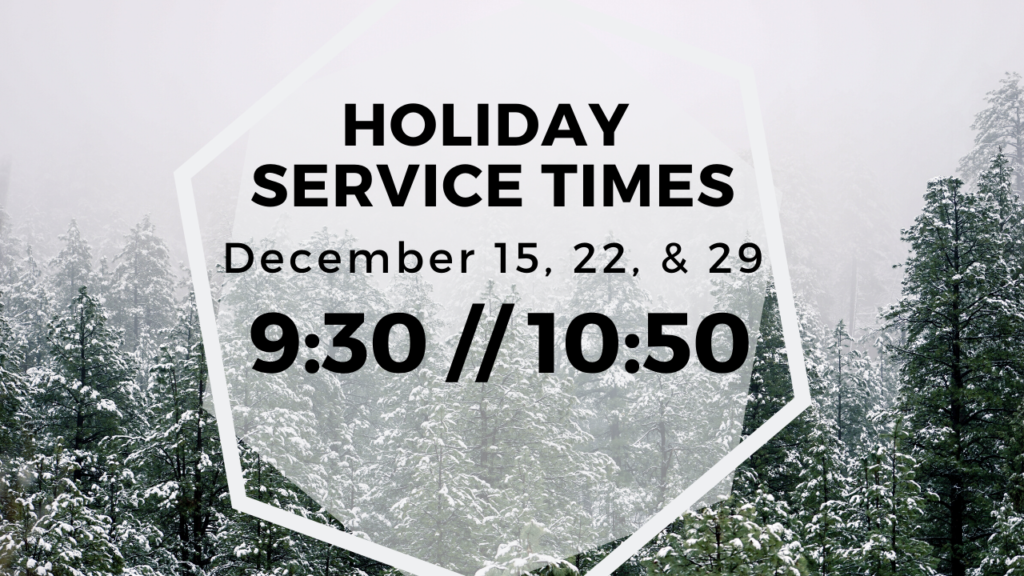 Dog Sled Race Service Opportunity: Our Men's Ministry has an opportunity again this year to partner with one of our ministry partners, Coldwater Foundation, at the Gunflint Mail Run Dog Sled Race in Grand Marais, MN. After the race, men on the trip will share in fireside fellowship and have the opportunity to snow shoe, cross country ski, or ice fish at beautiful Mink Lake Wilderness Camp. Our weekend trip will run from Jan. 10-12, leaving at 6am on Friday and arriving home by 9pm on Sunday. Cost to attend is $75. Please register online by Dec. 29. If you have any questions, contact Shay Davis at 712-541-5279 or Pastor Bob at bobbyd.db@gmail.com.