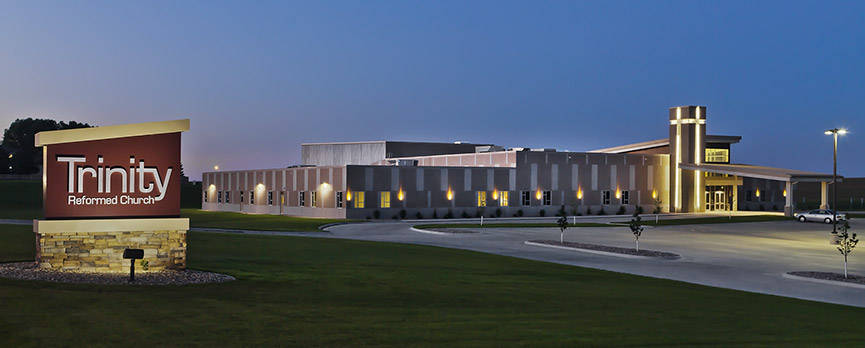 ---
SUNDAY MORNING
At Trinity we gather together every Sunday for worship. Sunday morning worship services are at 8:10 // 9:30 // 10:50 and last an hour.  Our worship always includes some singing, praying, and a message from one of our pastors, all based on scripture. We work to make the atmosphere friendly and inviting to all who enter our doors, and we encourage everyone to stay after the service (or come early), grab a free cup of coffee from our cafe, and fellowship. 
We offer nursery for kids ages 0-3 during each service. 
During the school year, kids 4 years-5th grade are dismissed during each service to participate in Kids Worship (our children's Sunday School program).  We have classes for adults and Middle School Sunday School at 9:30.  
---
WEDNESDAY NIGHT
Wednesday night programming is offered during the school year, September - April.
6:30 - Lighthouse Kids (K-5th Grade)
6:30 - Middle School Youth Group
8:00 - High School Youth Group
---
---
---
GET TO KNOW US
Our mission at Trinity is to connect people with God, others, and the world. What does that mean? Visit our mission page to get a more in-depth look at what motivates our mission and core values. While you're there you can find out what we believe and how we as a church body understand the Christian faith. 
---
MEET US
At Trinity we have a great staff to help partner in the mission and vision of the church. Visit our staff page to find out more about our staff, or to get connected with a staff member for more information about any of our ministries.
---
---
Address:
Trinity Reformed Church // Orange City
201 St Paul Ave SE
Orange City, Iowa
51041
Sunday Morning:
Worship // 8:10 / 9:30 / 10:50am
Kids Worship // 8:10 / 9:30 / 10:50am
Youth Sunday School // 9:30am
Email: trinityoc@gmail.com
Phone: 712.737.4542
Text: 712.201.3090
---
---
---
---
---
---
---
---
---
---