On Sunday we began a new 6-week sermon series, "At Our Core: The Values that Make Us Who We Are." Pastor Brian Keepers preached from Romans 1:1-17, exploring the first and most important of our core values – what it means to be "Centered in the Gospel."
Worship: You can view the sermon and Sunday morning worship by clicking HERE.
Bulletin: Find a link to the bulletin HERE.
Scripture & Experience Guide: Further engage the series with our daily scripture & experience guide. View a PDF of the guide HERE. If you would like a printed copy of the guide, email Michelle Christy at michellechristy.trinity@gmail.com.
This Week at Trinity
Cambodia Mission Partner Meal: There will be a meal at Trinity on Tuesday, September 10 at 6pm for those wishing to connect with Mark Wilson (our mission partner in Cambodia) and hear more about his work there. If you plan to attend, please RSVP on our online sign up so we know how much food to prepare.
Wednesday Night Programming Begins: Lighthouse Kids (K-5th grade) meets in the kids area at 6:30pm. There will be a parent meeting before Lighthouse Kids from 6:15-6:30. Middle School Youth Group meets in the youth room at 6:30. High School Youth Group meets at 8pm.
Parenting for Amateurs Begins Wednesday: Starting September 11, join Sally & Laird Edman for a six week class that explores compassionate, graceful, faith-filled parenting. Called "Where's the Manual for this Thing: Parenting for Amateurs", this course is for parents of all ages, from those preparing to parent through those raising high school aged children. The class will meet on Wednesday nights at 6:30pm during Lighthouse Kids. Childcare will be offered for kids 0-4. Sign up HERE.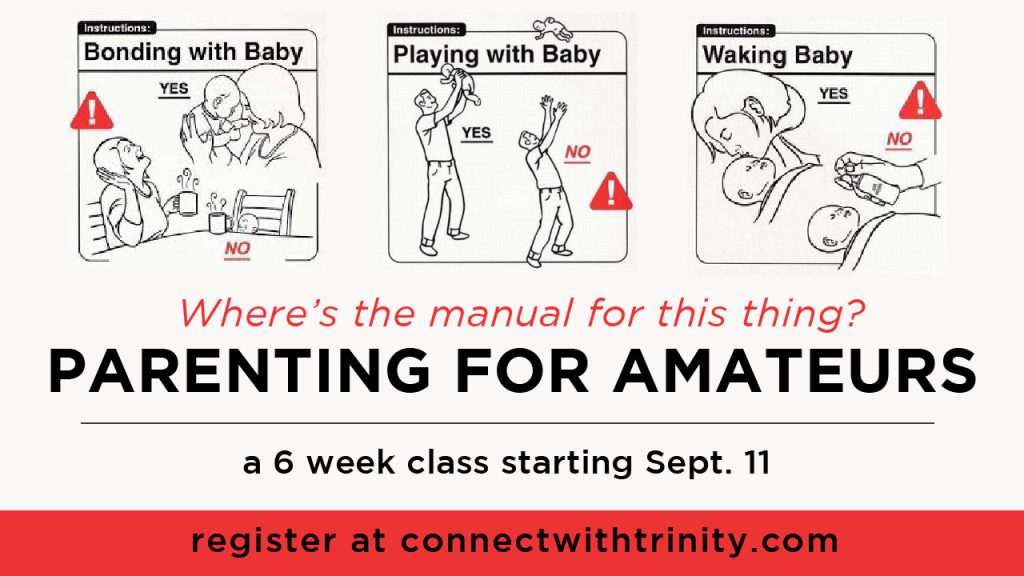 Book Discussion with Pastor Brian: "Disunity in Christ": Despite Jesus' prayer that all Christians "be one," the body of Christ constantly finds itself struggling with fractures and divisions. We gravitate towards those who look, think and act like us; and we label and distance ourselves from those who don't. Though we may think we know why this happens, Christena Cleveland says in her book "Disunity in Christ" that we probably don't. In this eye-opening book, learn the hidden reasons behind conflict and divisions. Come be part of a lively conversation with Pastor Brian about how we might build bridges across boundaries in Christ's name and overcome the hidden forces that divide us. This book study will meet for ten weeks on Wednesdays at 6:30pm, starting September 11. We encourage you to purchase your own copy of the book before we start. Register HERE.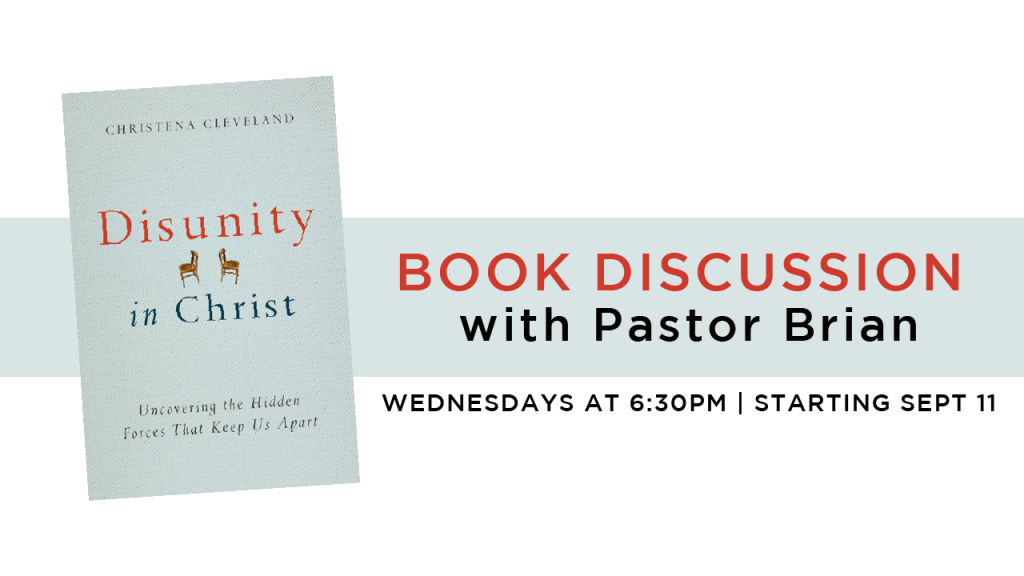 One Church | One Voice: On Sunday, September 15 from 6:30-8:00pm at Trinity we will have a time of worship and fellowship for the congregations of First Hospers and Trinity. Following worship there will be an ice cream social, so we hope you come out for a time of building up our two churches as we move towards becoming one church in two locations.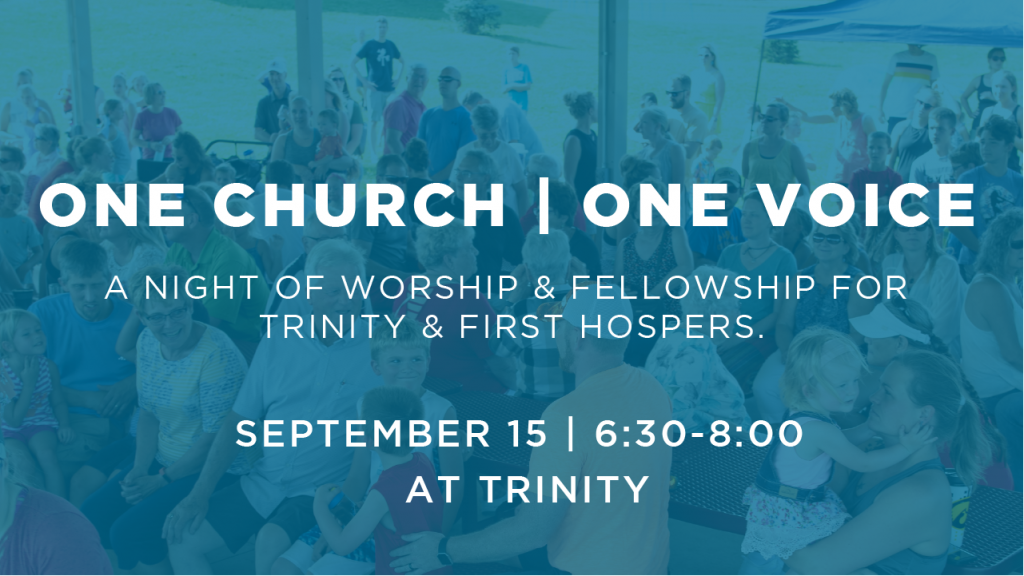 Announcements
Sponsor a Tree / Plant a Tree: The deadline to sponsor a tree or plant for the church property is September 9. We encourage you to sponsor a tree or plant in memory of a loved one or to be a blessing for future generations. A listing of all available trees and prices can be found on the online sign up. We will plant these trees on Tuesday, September 24, starting at 5:30pm. All are welcome to help with this process.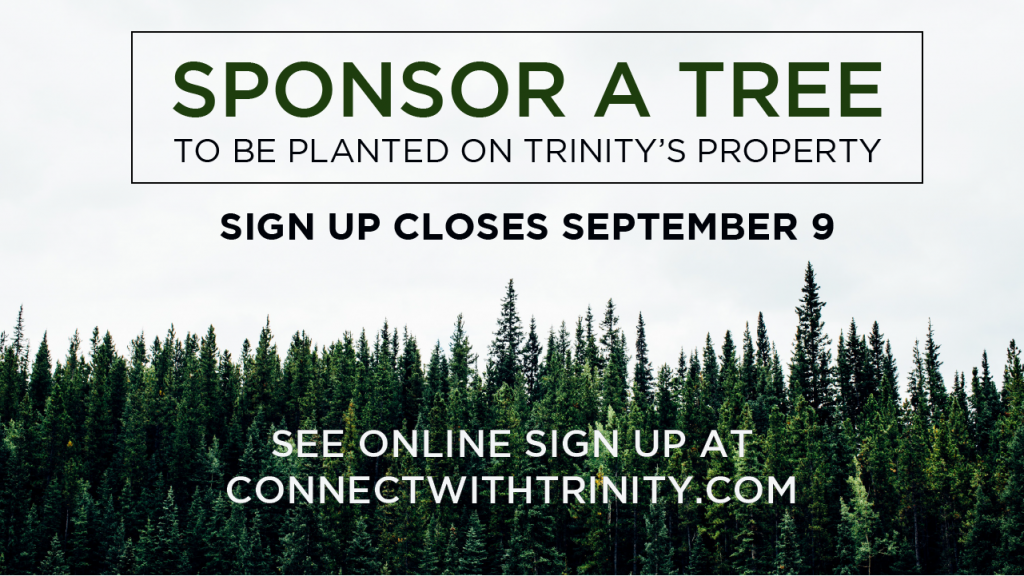 Local Needs Roofing Project: Trinity's Local Needs Team is looking for volunteers to help remove shingles, shingle, and clean up materials on the ground for a house in Orange City. We are also looking for anyone who would be willing to let us borrow tools or equipment to help with the project. The project is scheduled for Friday night, Sept. 20 & Saturday Sept. 21. If you are able to volunteer or provide tools, please sign up HERE.
College Lunch Food & Volunteers: We are looking for volunteers to provide food, to serve, and to help clean up after the college lunch on Sunday, Sept. 22. Please sign up HERE. Food can be dropped off Sunday morning by 11am. We ask that those helping with clean up arrive by 12:15.